Bath
For more than two millennia Bath has been a place to see and be seen. A world heritage city, famous for it's unique hot springs, Roman Baths and gorgeous Georgian crescents, some of the finest architectural sights in Europe. Millions of visitors travel to Bath each year for an unforgettable cultural experience.
Housed in a beautiful Georgian building, Brock Street Gallery is situated in the premier location at the heart of Bath's vibrant art quarter. With the largest concentration of art galleries and art museums outside of London, just over 100 miles away, it is an essential destination for discerning art buyers and collectors.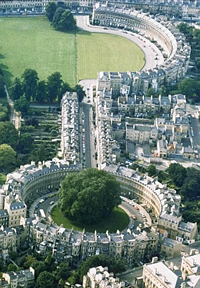 Brock Street linking the Circus
and Royal Crescent.